BACE Training Centre, Sonargaon
Online Booking Form (Click Here)
About BACE Training Centre:
Bangladesh Association for Community Education (BACE) is one of the most renowned NGO working to improve life situation of the under privileged people. One of the prime program of BACE is it's Gonobidyalaya program which provides life oriented skill and awareness building education to the unemployed rural youths. Among 5 Gonobidyalayas Central Gonobidyalaya (CGB) is situated in the most attractive location at Sonargaon the ancient capital of Bengal and adjacent to the Sonargaon Folk and Crafts Museum.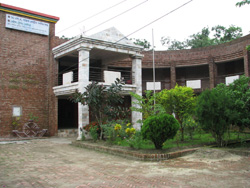 BACE Training Centre located in the premises of CGB has emerged as an attractive venue to different organizations for holing training program, seminar, workshop, conference etc. The unique training venue started functioning on rental basis from a couple of years back with newly built and renovated hostel facilities. Those who prefer a calm, attractive and secure venue with natural beauty from them BACE Training centre is an ideal one, which is not far away from Dhaka.
Facilities:
The BACE Training centre includes accommodation for a total of 58 person's conference/training rooms and an auditorium. To Supplement REB power failure BACE Training centre is equipped with stand by generator. Following are details of the facilities:
| | | |
| --- | --- | --- |
| Type of room | Capacity | Rent per day (Tk.) |
| Conference Room (A/C) | 35/40 person | 4,500/- |
| Training Room (A/C or Non A/C) | 25/30 person | 2000/- (Non A/C), 3000/- (A/C) |
| Hostel –1 (2 seated room attached bath) | 16 person (8 room) | 600/- (each room) |
| Hostel –2 (3 seated room, attached bath) | 36 person (12 room) | 800/- (Each room) |
| Guest House (A/C) (4 room 6 bed) | 06 person | 5,000/- |
| Auditorium (Non A/C) | 150 person | 15,000/- |
Equipment :
The following  equipment are available for renting:
| | |
| --- | --- |
| Type of equipment | Charges in TK. |
| OHP with Screen (per day) | 500/- |
| Multimedia Project (Per day) | 1500/- |
| VCD/DVD player (per day) | 200/- |
| Digital Camera (per day) | 300/- |
| Cordless Amplifier (With two microphone(per day) | 300/- |
| loud speaker (Mike) (per day) | 300/- |
| Video Camera (per day) | 2000/- |
| Computer compose (per copy) | 10/- |
| Photocopy support (per copy) | 2/- |
| Computer service (per day) | 500/- |
| Telephone service NWD (per min) | 6/- |
| Internet use (per hour) | 30/- |
| Hand nmike (per day) | 200/- |
Food and beverage:
Breakfast, Lunch, Dinner +two light snaks tea/per person per day Tk. 350-650 (Depends on menu).
Special diet may be arranged on request by guests.
10% Service charge to be paid on food and accommodation bill. VAT & Tax are applicable according to govt. rules.
Recreation:
Participants/ Facilitators/ Guest can enjoy TV (with dish Connection), Videos, Magazines, Daly News paper, Chess etc. Musical instrument are available for recreation. The Auditorium and open stage may be used for culture function/ information interaction.
Others Facilities:
Wi-fi Zone in the campus, Library, Picnic sport.
Our valuable clients:
ILO, Action Aid Bangladesh. BRAC
Dhaka Ashania Mission. Nagorik Uddyog
Ain O Salish Kendra. Save The Children
Bureau Bangladesh. CAMPE. SAP.
NGO Forum. FIVDB. BEES, ADD International, OKUP, SEED.
Naripokkho, Plan Bangladesh.
The Hunger Project, Progati life, Delta life, Prime Islami life and National life insurance co. etc.
Security:
Located in a serene surrounding of natural beauty the BACE Training Centre is a secured place, entire campus is surrounded by barbed wire fence and guards are always on duty.
Other Views:
While Visiting BACE Training Centre, you can also visit the Panam Nagar (Ancient capital of Bengal) & Folk Museum near to the Training Centre.
Location:
The BACE Training centers only 25 km. away from Dhaka and is only half an hour drive from Gulistan through Dhaka Chittagong high way.
For booking and other details, please contact:
Mr. Aftabur Rahman, Principal, Cell # 01794-505108