Khan Jahania Training Center, Bagerhat
Online Booking Form (Click Here) 

Bangladesh Association for Community Education (BACE) is one of the most renowned NGO working to improve life situation of the under privileged people.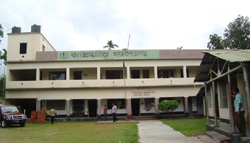 One of the prime program of BACE is it's Gonobidyalaya program which provide life oriented skill and awareness based education to the unemployed rural youths.
Among 5 Gonobidyalayas, Khanjahania Gonobidyalaya is situated in historical and cultural heritage place of southern part of Bangladesh close to the Sundarban forest and the Bay of Bengal.
BACE Khanjahania Training Center located in the premises of Khanjahania Gonobidyalaya (KGB) has emerged as an attractive venue to different organizations for holding training program, seminar, workshop, conference etc.
Those who prefer a calm, attractive and secure venue with natural beauty for them BACE Khanjahania Training Center (BKTC) is an ideal one, which is only 0.5 km. away from "Saitgambuz" Mosque, 6 km. away from Bagerhat town and 23 km. away from Khulna Town.
Facilities for Training/Workshop/ Seminar/ Meeting etc. bellow in details:
| | | | |
| --- | --- | --- | --- |
| Type of room | Capacity | Rent per day (Tk.) | Remarks |
| Conference Room (AC) | 35-45 person | 3000/- | The room is in the First floor |
| Training Room (Non AC) | 35-45 person | 2000/- | do |
| Hostel (3 seated room with attached bath) | 33 person | 150/- per person/per day | do |
| Dining Hall | 100 person | 2000/- | For meeting/workshop only |
Food packages
Package-1: (Breakfast, Lunch, Dinner & 2 times snacks with tea) 60+145+145+50=400.00
Package-2: (Breakfast, Lunch, Dinner & 2 times snacks with tea) 50+170+170+60=450.00
Package-3: Lunch /Dinner (per meal)                                                                  =300.00
Package-4: Lunch /Dinner (per meal)                                                                  =365.00
Extra order as per current market price
10% Service charge to be paid on food and accommodation bill
Other facilities in Training Room
Multimedia                                   TK. 1000 (per day)
Laptop/ Computer                        TK.   500 (per day)
Sound System                              TK.   500 (per day)
Photocopy (Normal)                     TK.   2.00 (per page)
Photocopy (offset)                        TK.   3.00 (per page)
Internet/Computer use                 TK.      20 (per hour)
Computer Compose                     Tk.       20 (per page)
Further Information and for booking bellow in details
Phone: +88 0468 63270
Mobile: +88 01740 914745, (K.M.Kamruzzaman, Principal),
+88 0174-6262957 (Taposh, Accountant)
E-mail: kgb.bace@gmail.com
We try to giving you better service always