Founder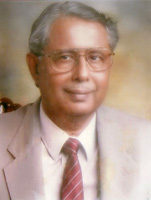 Dr. M.A, Sattar
Birth: 1 June 1932; Death: 26 May 1992

Dr. M.A. Sattar was born in the village of Naora at Sharasti Upazilla in the district of Chandpur on 1st June 1932. His Father Mr. Azizur Rahman Patwary was a pioneer in rural development; best co-operative organizer, successful philanthropist and a patron of education. His mother Ms. Karfulennessa was a good house wife and ideal mother. In the secondary school certificate exam, in 1951, he secured second place. He secured 7th place in the combined merit list in Higher Secondary Examination in 1953 from Dhaka College. In 1956, he obtained the honors degree in Economics securing 3rd place in first class from the Dhaka University. In 1958, he got admitted into the Institute of Public Administration in Karachi where he secured 1st place and received a scholarship. In the meantime, he participated in the CSS examination and secured the first place in written test and including with viva his position was 7th in entire Pakistan. He joined the Lahore Civil Service Training Academy in the same year. After accomplishing training he went to the Cambridge University in the United Kingdom and obtained Diploma in Public Administration. He obtained MA degree in Development Economics from the William College of the United States. He completed Ph.d in 1969 from the Tafts University in United Kingdom.
Dr. M.A. Sattar started his professional life as a CSP officer in July 1960. He got married with Ms. Ellen Mary Harrington in 1962. Dr Sattar was the father of four sons. They are well educated and established in life.